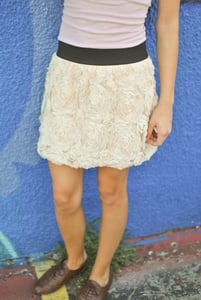 $

36.00
Fringe and hats, rouged cheeks and short bobs -- these are the things that are evoked by the nineteen twenties. Flowery and romantic, the Roaring Twenties were a period of change and sophistication. And while wearing Fleur, you, too, can be a part of that era. Cream colored, with lovely details and a romantic feel, it's hard not to feel fancy when this gorgeous skirt is part of your ensamble.
(click photo to view larger)
---
Order soon -- only a few available!
Sizes available: S, M, L
Live in a country other than the United States? Contact us to find out about shipping.